SOFOMARIN, marine plumbing engineering for the nautical industry
Exclusive SOFOMARIN patent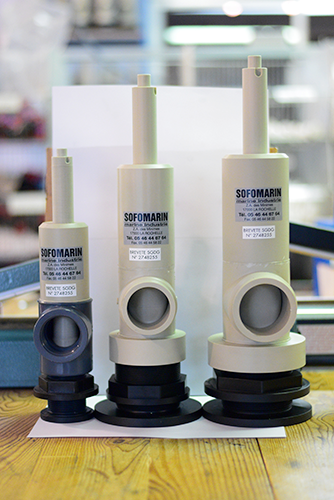 This valve is an element that has three functions:
By the boat's own speed or if there is a large height to climb, it helps to operate a manual or electric pump.
By the speed, the water is evacuated by "ventury" effect and uses the same circuit as the filling. This avoids complex piping systems and weight overloads. It also simplifies the operating system, reducing the number of valves.
Closing is achieved by closing the valve by pulling the function system. It ensures tightness.
Operation: The Sofo scoop has only one operation to obtain the operation either by rotation of the shaft or by longitudinal displacement of the valve shaft.
Available in 3 sizes:
SOFOSCOOP1 - DN25
SOFOSCOOP2 - DN40
SOFOSCOOP3 - DN50
Welding of PP & PPG parts for more compactness
Delivery in kit form for series production
Sets of parts in one package
Simplifies input/output operations
Avoids wasted time in preparing for workshop supply
Design and production of custom-made sets
Manifold for filling, emptying, transferring ballasts delivered assembled, ready for connection
Manifolds with valves
Drainage clarinet
Our products are present on the different races....